Giới thiệu sản phẩm Power Ampli Anthem MCA 225
Thương hiệu sản phẩm: Canada

Sản xuất : Canada
To complement the NEW AVM 60 A/V Processor, Anthem introduces the new MCA 525, 325 and 225 power amplifiers. Available in 5, 3 and 2-channel configurations, these new MCA amplifiers feature more robust and efficient power and heavy-duty reliability. The new MCA Series delivers lower THD (total harmonic distortion) for more clean, pure sound and lower noise for a supremely quiet background.
Like all Anthem products the MCA 525, MCA 325 and MCA 225, designed and Crafted in Canada, are like no other amplifiers in the world: custom low noise high-power toroidal transformers; high-current bipolar output transistors; high-quality filter capacitors; advanced power supply regulators; oversized aluminum heatsinks; custom-designed dual binding posts; and patented auto-on/off circuitry. Superior craftsmanship that is reflected in clean, clear, audiophile-quality sound from top to bottom of the frequency spectrum.
225W in 2-Channels
Delivers lower THD (Total Harmonic Distortion) for cleaner, pure sound and lower noise

Completely redesigned for improved audio performance and reliability

Higher current output for lower distortion

Cosmetic match for AVM 60 A/V Preamplifier-Processor

Improved Advanced Load Monitoring system

8 bipolar output devices per channel for less stress on each device

Less than 2 watts standby power consumption

Crafted in Canada
If you're looking for ways to improve your music listening, a high-quality stereo power amplifier like the Anthem MCA 225 can make a huge difference. Some mistakenly assume that high-powered amplifiers are only about playing your music louder. Although that is partly true, the stand-out reason is to get cleaner sound with more real-world dynamics. A quality amplifier will "control" your speakers better and it does this by controlling the stop-start motion of your the larger drivers in your speakers, enhancing virtually every aspect of sound quality from deep bass, to a more life-like sound stage.

Originally, power amps like the MCA-225 were paired with a complimentary stereo preamps, but now-a-days with home theatre being so popular, things have changed. One way to use the MCA-225 is of course with an Anthem MCA-325 or MCA-525 and Anthem's superb AVM 60. But if you are happy with the features on your present receiver and it has preamp outputs — and many do — you can easily connect the MCA-225 and upgrade sound quality significantly by using it to drive your main left and right channels. That added power will do wonders for both music and movie soundtracks. Your receiver can then be left to handle the centre channel and rear effects speakers.
Ảnh sản phẩm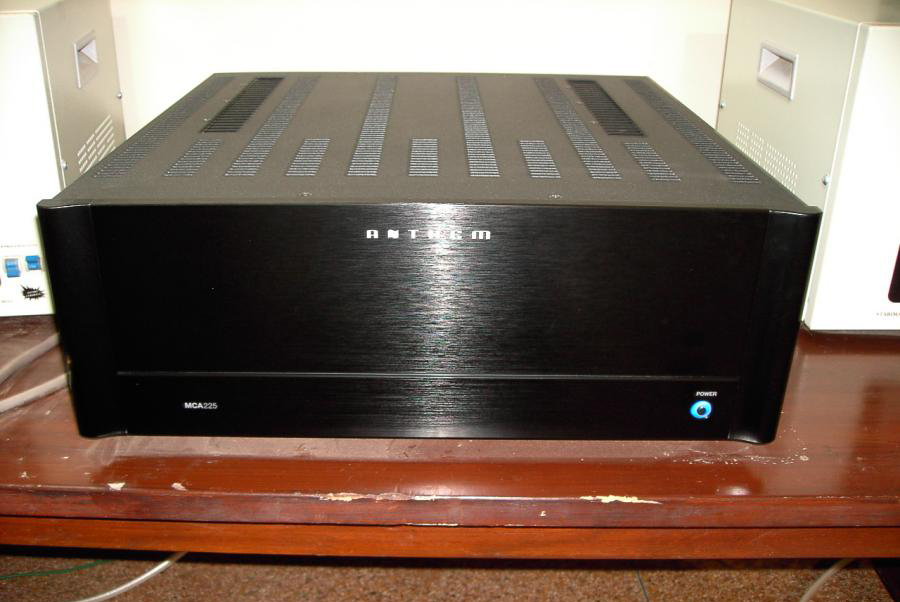 Vì sao bạn nên mua tại Điện Tử Nam Phú  
• Với lợi thế không mất chi phí thuê mặt bằng, Điện tử Nam Phú luôn mang đến cho Quý khách hàng mức giá tốt nhất thị trường
• Điện tử Nam Phú cam kết luôn cung cấp sản phẩm chính hãng và bảo hành 100% chính hãng.
• Điện tử Nam Phú đã khẳng định được thương hiệu của mình trên thị trường và luôn được đông đảo người chơi âm thanh Hi-end trên các diễn đàn VNAV, HDVN tin tưởng và ủng hộ.
• Với đội ngũ kỹ thuật nhiều năm kinh nghiệm phối ghép thiết bị âm thanh sẽ tư vấn tới Quý khách hàng những bộ phối ghép phù hợp sở thích và tài chính để mang lại hiệu quả cao nhất.
• Điện tử Nam Phú luôn đảm bảo quyền lợi tốt nhất cho khách hàng, cam kết hỗ trợ kỹ thuật tới khi Quý khách hàng hài lòng.
Hãy gọi điện ngay cho chúng tôi để được tư vấn những sản phẩm mang lại hiệu quả cao nhất cho đam mê và phù hợp nhất với tài chính của bạn!