Giới thiệu sản phẩm Ampli Anthem MRX 520
Thương hiệu sản phẩm: Canada

Sản xuất : Canada
Anthem's award-winning Third Generation MRX Series of high-end multi-channel A/V receivers are known the world over for their excellent sound quality, efficient power handling, and the ease with which they integrate into an entertainment system. The MRX Series is packed with exclusive audio innovations like Anthem Room Correction (ARC) Technology and Advanced Load Monitoring (ALM) Technology, 4K Pass-Through with fast HDMI switching and more.
Featured here is the Anthem MRX-520 that delivers a genuine 100 Watts per channel at 8 Ohms in stereo mode which is enough to drive most speakers very well. As with all Home Theatre Receivers the power will drop when you add more speakers. We estimate the '520 will pump out upto 80 Watts of clean power with 5 speakers connected and running full-time. Contrary to what many sales guys say, this is usually enough for most consumers. However, if you need more power, the smart money says to add either an Anthem MCA-225 Power Amplifier for the front two speakers or if you have a similar centre speaker then an Anthem MCA-235 Power Amplifier for the front three speakers. That then leaves a massive amount of power available for the remaining speakers! If it is music first and movies second, then this is what Anthem products deliver by the bucket full.
Connectivity
The Anthem MRX-520 is well equipped for those who want a complete control centre in one box. In addition to the high quality amplification, the product has plenty of inputs. On the audio side there are a total of five analogue line-level inputs (RCA type) and two line-level outputs for recording if you will ever use them. A great feature is also the ability to hook-up individual power amps to all 11 channels in conjunction with two subwoofers. HDMI inputs total seven including one that is compatible with MHL devices with two HDMI outputs. The digital side is very well catered for with 3 optical/2 coaxial inputs and an optical output. Speaker connection is via high-quality binding posts which will accept bare wire or the universally accepted and preferred 'banana' plugs.

Anthem Room Correction
And then there's Anthem room correction (ARC)! Even when the finest speakers are perfectly positioned, the room itself still has a dramatic impact on a system's sound, an impact more profound than that of any individual component. Various 'electronic' solutions have fallen in and out of favour over the years, but none has solved the problem of "the room." Until Anthem ARC that is.

Using proprietary processes and the power of your PC the ARC system, years in development and included with your Anthem MRX-720, analyzes each speaker's in-room sound and then computes the required correction to yield optimal performance from every speaker. It's a process that takes less than five minutes! Anthem's approach is a true audiophile solution to the problems of the room. ARC is garnering rave reviews across the industry. For more information, see the ARC data sheet in the downloads & support section of the Anthem website.

However, although ARC is definitely the best 'electronic' room correction system currently on the market, it can only do so much. A bad sonic environment is still a bad sonic environment! ARC will make it as good as it can electronically, but additional room treatments will make almost any room sound better. Audio Trends can help with both the design and supply/installation of room treatments.
5.2 Pre-Amplifier & 5 Amplifier Channels
ARC™ Anthem Room Correction

4 Speaker Profile Memories

Two Sub Out Jacks (parallel)

Premium 32-bit / 768 kHz Differential-Output D/A Converters

HDMI & Video

HDMI 2.0a

HDCP 2.2

4:4:4 Subsampling at 4K60 (18.2 Gbps)

High Dynamic Range (HDR)

BT.2020 Color Gamut

On-Screen Display with 4K 50/60

4K 50/60 Switching
MRX 520 Features & Functions
Advanced Load Monitoring (ALM)

FM Tuner

Low Standby Mode power consumption

Remote control app for iOS (Apple) and Android (coming soon!)
Decoding
Dolby TrueHD

DTS-HD Master Audio
Listening Modes
AnthemLogic – (5.2 channels with MRX 520)

Dolby Surround

Dolby Pro Logic II on MRX 520

DTS Neo:6 – Cinema, Music

All-Channels – All-Speaker Stereo
Inputs
7 HDMI inputs (7 rear inputs on MRX 520)

Digital Audio Inputs: 2 Coaxial + 3 Optical

5 Stereo Analog RCA Inputs

HDMI On-Screen Display – setup, video adjustments, status, song/artist info from radio stations

MHL Supported Inputs

xvYCC, Adobe RGB, Adobe YCC601, sYCC601, Deep color

2 Parallel Outputs

Consumer Electronic Control (CEC)

Audio Return Channel

Standby Pass-through
Custom Installation
IP Control

RS-232 Control

IR Input (Configurable)

12V Trigger Output

Control System Drivers
Additional Features
Warranty
Ảnh sản phẩm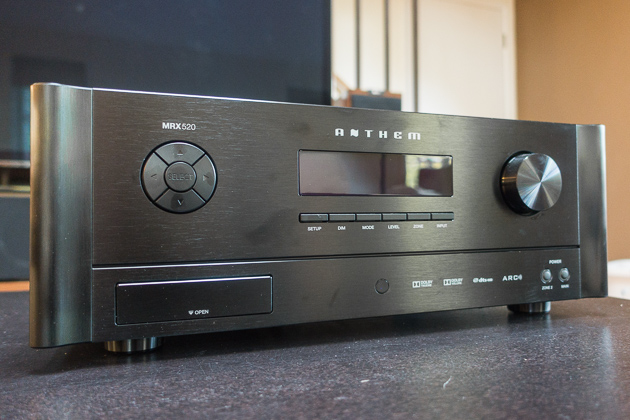 Vì sao bạn nên mua tại Điện Tử Nam Phú  
• Với lợi thế không mất chi phí thuê mặt bằng, Điện tử Nam Phú luôn mang đến cho Quý khách hàng mức giá tốt nhất thị trường
• Điện tử Nam Phú cam kết luôn cung cấp sản phẩm chính hãng và bảo hành 100% chính hãng.
• Điện tử Nam Phú đã khẳng định được thương hiệu của mình trên thị trường và luôn được đông đảo người chơi âm thanh Hi-end trên các diễn đàn VNAV, HDVN tin tưởng và ủng hộ.
• Với đội ngũ kỹ thuật nhiều năm kinh nghiệm phối ghép thiết bị âm thanh sẽ tư vấn tới Quý khách hàng những bộ phối ghép phù hợp sở thích và tài chính để mang lại hiệu quả cao nhất.
• Điện tử Nam Phú luôn đảm bảo quyền lợi tốt nhất cho khách hàng, cam kết hỗ trợ kỹ thuật tới khi Quý khách hàng hài lòng.
Hãy gọi điện ngay cho chúng tôi để được tư vấn những sản phẩm mang lại hiệu quả cao nhất cho đam mê và phù hợp nhất với tài chính của bạn!